NEWS
Baidu and Ford Joint Hackathon Creates Apps for Cars in the Mobile Age
29 January 2013 Updated at 05:35 CET
Beijing, January 29th 2013 — After 24 hours of coding, dancing, music, food and beer, 26 individuals and self-organized teams of Baidu engineers demoed their in-car apps built during a hackathon jointly held by Baidu and Ford at the Baidu Campus on Sunday morning.
All of the 26 apps were built with technologies and application development tools offered by the Baidu Cloud Developer Center (developer.baidu.com), and were integrated into Ford's AppLink system, which allows drivers to run voice-controlled apps on their phones.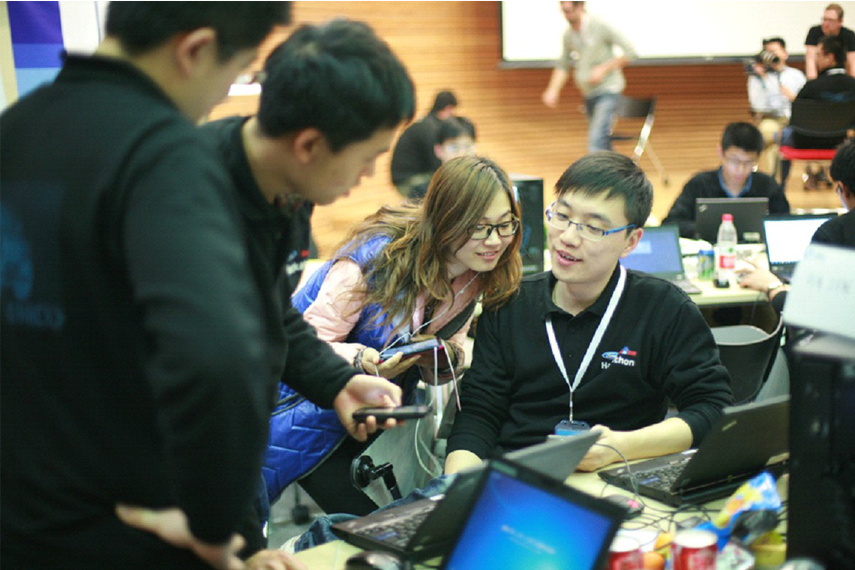 In addition to APIs and SDKs already available in the Baidu Cloud Developer Center, Baidu opened new APIs, including music and facial recognition, especially for this hackathon.
Some of the integrated apps allowed drivers to send SMS or post weibo or microblog entries by voice, while others enabled drivers to ask questions about buildings, billboards or landmarks they drove by, with answers pushed to their cars from the cloud. Another app detects a drowsy driver with facial recognition technology, waking up droopy-lidded drivers with a high-volume song—and texts friends automatically with the driver's location and a request for help.
First prize for individual engineer in the hackathon went to Ms. Gao Yuan, who built an app featuring a simple two-option multiple choice quiz game with the driver, ranking the score among all drivers using the app. Ms. Gao's app won her a trip to Barcelona for the Mobile World Congress in February.
"I was truly inspired by the innovation and fun you were having and our imagination on what future vehicles will be like. I look forward to seeing some of these apps actually coming to life in our products," said David Schoch, Group Vice President and President, Asia Pacific at Ford Motor, who was on the judging panel along with Sun Yunfeng, chief product architect at Baidu.
Sun Yunfeng said that this was the first time a Baidu hackathon involved another company. "We look forward to future cooperation with makers of other devices like televisions or home appliances," he said. "Baidu has talent, technology and quality content to offer in fields like music, voice recognition and facial recognition."
For further information, contact:
Anna Wang wanganna@baidu.com
(86-10) 5992-6559
Chinese Internet Giant Baidu Rolls Out World's First Commercial Deployment of Marvell's ARM Processor-based Server
20 February 2013 SANTA CLARA,Calif.
Marvell powers Baidu's cloud storage application with its low-power ARMADA XP CPU Server on Chip; launches new era of cost-effective, energy-efficient ARM servers
SANTA CLARA, Calif. (Feb. 20, 2013) – Marvell today announced the inclusion of its chipset in the world's first commercial deployment of ARM-based servers at Chinese search engine giant Baidu. As the first organization in the world to leverage ARM servers for commercial use, Baidu is pioneering a new era of more cost-effective and environmentally friendly data centers that feature power-sipping consumption and greater performance.
Marvell's implementation of ARM in its ARMADA™ XP CPU server SoC provides an easy to integrate, all-in-one solution that supports a new class of server demands in today's data center, especially given the growth of high-storage light-computing tasks for cloud-based services and applications, Web hosting and social sites. Baidu is using the new ARM servers in its cloud storage application named "Baidu Cloud" (yun.baidu.com).
"Marvell is proud that both our passion to drive breakthrough technology and innovation and our vision to make an early investment in ARM more than a decade ago has led to this important milestone of becoming the first semiconductor company in the world to commercially launch an end-to-end SoC platform that supports a new era of server demands in the modern data center," said Ramesh Sivakolundu, vice president, Cloud Services and Infrastructure Business Unit, Marvell. "The Baidu implementation brings Marvell's vision for ARM architecture full circle, and Marvell's leadership and heritage as the only company to provide end-to-end ARM solutions that cover communications, storage, servers, compute and mobile was integral in making the Baidu deployment a reality."
As a growing number of Internet and cloud services companies look to migrate away from inefficient legacy architectures and embrace the energy-efficient ARM server, the Baidu implementation validates Marvell's long-held belief that ARM technology will power everything from small mobile devices to large enterprise data centers.
The ARM servers in the Baidu data center are powered by Marvell's complete platform solution of quad core ARM-based ARMADA™ XP SoC products, including the ARMADA XP CPU, Marvell's storage controller, and a 10Gb Ethernet switch. Marvell has customized the ARM servers specifically for Baidu's cloud storage requirements. The Marvell platform is designed to increase the amount of storage for conventional 2U chassis up to 96 TB, and to lower the total cost of ownership by 25 percent, compared with previous x86-based server solutions. Marvell's expertise in compute, storage and networking translates to a completely integrated solution that meets Baidu's demand for a "green" data center that reduces power consumption by half while dramatically increasing efficiency.
In addition, Marvell has incorporated its Fast Ethernet physical layer (PHY) transceivers, which offer the industry's lowest power dissipation, smallest form factor, highest performance and most advanced feature set. Marvell PHY technology leads the industry with the lowest power consumption (under 150 mWatts per port), enabling network systems manufacturers to decrease system cost by reducing both power supply and fan requirements.
"Based on the advanced principles of 'application-driven' and 'software-defined' data center design, Baidu is a trend-setter in shifting data to the cloud. The world's first large-scale deployment of ARM servers in the data center represents Baidu's leadership in cloud computing system infrastructure," said Mr. Wang Jin, vice president of engineering at Baidu. "In order to bring greater storage density to the data center, lower TCO (total cost of ownership) and deliver efficiency to a new level, Baidu integrated leading design capabilities with Marvell's advanced chipset solutions. This project represents Baidu's success in building cloud computing data centers."
The ARMADA XP, the world's first commercially available quad-core ARM processor, is specifically designed for server use in enterprise-class cloud computing environments. Its four 1.6 GHz ARM-V7-based cores offer support for 16GB DDR3 DRAM, providing one of the best PPW for next-generation green data centers. The result is lower-power, higher-efficiency server solutions for enterprise data centers, leading to significant savings.
For further information, contact:
Marvell Media Relations
Daniel Yoo yoo@marvell.com
408-222-2187
Baidu Launches English Website for Developers
28 February 2013 Beijing
Baidu, China's leading search engine, today unveiled an English-language website to introduce its suite of powerful tools and resources for developers outside of China.
The English site, which at present is limited to introductory materials about Baidu's developer services, will eventually make it possible for developers who do not read Chinese to build apps for the Chinese market, tapping into Baidu's strengths in search, LBS and maps, cloud storage, and numerous self-developed technologies.
Baidu's Cloud Developer Center has helped tens of thousands of domestic developers create powerful apps that function seamlessly across multiple platforms. Developers enjoy significant savings both in development time and in cost, bringing their apps to market faster and cheaper.
App developers will be able to freely integrate all of Baidu's mobile services into the apps they build. PCS (Personal Cloud Service), for instance, provides access to vast cloud storage that developers can pass on to users for photo, video, music and other apps with large storage requirements.
They can then upload them to Baidu's Mobile App Center (http://as.baidu.com), where users of China's largest mobile search engine can find and download them. Baidu can help developers monetize their Android-based apps in a way that has, until now, been very difficult in the China market.
Developers are invited to explore the site to learn more about Baidu's powerful tools and resources at http://developer.baidu.com/en/
For further information, contact:
Moca Huangfu huangfuziqiao@baidu.com
(86-10)56798381